r\alE ebhU Ď2000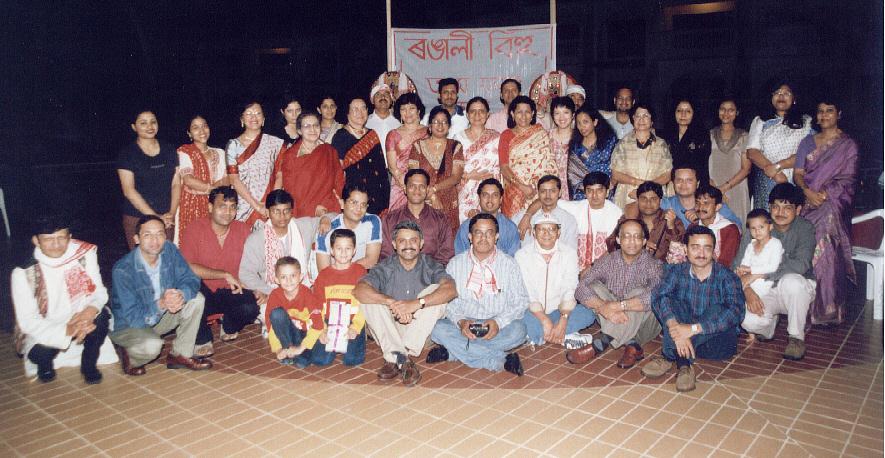 To welcome the Assamese New Year, Rongaali Bihu was celebrated in UAE on 13th & 14th April, 2000.
The function was held at the Barracuda Beach Resort premises in Umm Al Quwain. The venue was decided after looking at various options and also considering the desire of most of us to have an overnight program (once more like last year!) to celebrate this big occasion. We had a gathering of over 60 from Dubai, Abu Dhabi and Sharjah.
The venue, a self contained beach resort, is about 65 Kms from Dubai on the way to Ras Al Khaimah. Its almost an hourís drive away from Dubai via Sharjah & Ajman; the place is about 30 Kms from Ajman City Centre and 18 kms from Umm Al Quwain R/A towards Ras Al Khaimah.
Guests started arriving in the afternoon as per their convenience and checked-in to the allotted rooms. Till late evening one could make use of the facilities at the Resort for rest and relaxation. An evening of cultural events to mark the occasion was scheduled to commence at 8:00 PM; however, due to 'technical problems' the show finally got off to start at 9:30 PM. The fun-filled program which carried on till well past midnight, included Children's Bihu dance, Song based programs, Assamese riddles (Xathor), mono-acting, instrument recitals besides stage based contests for ladies, gents and children. The night's program was concluded with the singing of "O Mor Aaponar Dex" The mini cultural program was followed by a poolside Bar-be-Que dinner. The dinner however could not meet everyone's expectations.
However, the next morning was more action-packed. It started with a beach cricket match. This was followed by a trip to the nearby Dreamland Aqua Park, where everyone appeared to have enjoyed the water based activities to their heart's content.
This was the second successive year of the community celebration of Rongaali Bihu in UAE.
(Please read Prabasat Bihu for a report of the event in Assamese)